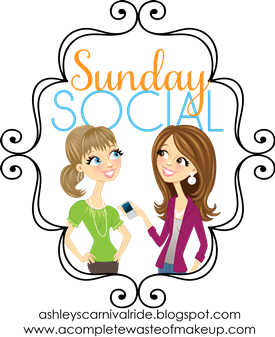 Today's Sunday Social (which I'm linking up to a little later than intended...) is all about what we're thankful for. So, here's just a few things...
I'm thankful for husband. I couldn't have dreamed of finding a better husband. He is absolutely perfect for me. Like last night, when we decided to see a third movie on a whim...at midnight. Yep, he's great.
Me and the Hubs
I'm thankful for my family. My mom and dad who raised me and helped me become the woman I am today. My grandparents who supported me and my parents through out my life. My sister who I'm very proud of for the things she's done so far in her life. My brother, who though no longer here, still encourages me to be the best version of myself I can be in his own, quiet way.
The Fam
I'm thankful for my family. I'm so lucky to have married into a great family. My mother-in-law and father-in-law are amazing to let us live with them. My Brother-in-law and sister-in-law are such a great support for me and the hubs. Not to mention, they've given me the most amazing niece! I love her so much and enjoy getting to watch her grow up...I can't believe she's almost two and how amazing she is already!
Parker at our slumber party way back in July.
I'm thankful for my friends. New and old. Near and far. This year I've seen a dear friend move far away, and I've made new friends at school. This past year I've learned how important relationships are to me and my happiness and I've enjoyed working to cultivate this part of my life.
I'm thankful for school and the courage to change my major. I enjoy going to school and learning new things. I'm enjoying the things it teaches me and shows me. And I enjoy being in classes that make sense to me. This part of my life has improved so much this year and I'm very happy for it!
I'm thankful for the blogging world. Y'all really are an amazing group of people and I really appreciate having you in my life through this computer. You are always encouraging and supportive in a way no other group of people are.
While I have many more things to be thankful for, this is what I'm sharing today! I hope everyone enjoys this week. Having a day (or two!) off of work and/or school! Having a meal that is plentiful, delicious, with plenty of leftovers. And maybe even a little shopping! Happy Thanksgiving Week! Be thankful for all of the amazing things in your life this week!