Today I'm linking up with The Magnolia Pair to talk all about our wedding cake!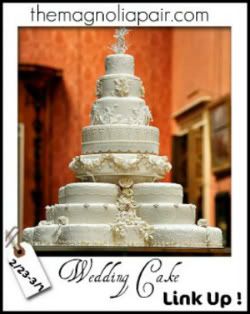 Our cake was one of my most favorite parts of our wedding! I spent a long time looking at photos for wedding cakes that I loved and went to our favorite bakery for our cake. Haydel's did an AMAZING job!
This is the inspiration cake for our cake. I've loved cakes for years and have kept a file on my computer (now on Pinterest) of beautiful cakes. I had saved this cake to my computer on November 14, 2009. That is one year to the day before we got married. I forgot about that file, and amazingly enough, found this cake AGAIN and used it for the inspiration for our cake! When I learned this months later, I was amazed! I was also really happy that I had liked the same cake not once but twice...how cool!
My CAKE! I absolutely loved it! The inspiration cake, had dots on the side of the cake. Instead of dots, we used little fleur de lis to reflect a little bit of New Orleans in our wedding. And, since sugar flowers cost a fortune, we just had light colored buttercream roses on the top. We had 2 types of filling in ours, lemon on the top and bottom layer and pineapple on the middle layer. I enjoyed it so much!
And, since we didn't go on our honeymoon right away, we took the leftovers home and oh my, I think that's how I put on the first 5 pounds of our marriage!
My favorite picture of the cake!
So there's my cake! Thank you The Magnolia Pair for giving me a chance to go back and relive just a bit of our wedding!!
And don't forget, TOMORROW is the LAST day to enter my Scentsy GIVEAWAY!! Go enter now!!