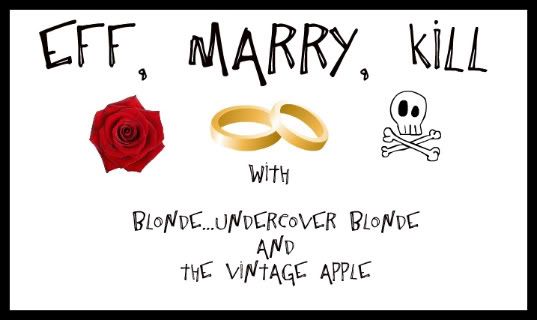 Today I'm linking up with Blonde Undercover Blonde and The Vintage Apple for another episode of Eff, Marry Kill. Today's theme is Nicholas Sparks' Movies. I'm picking which actors that have starred in Nicholas Sparks movies I would Eff, Marry & Kill.
Eff
Channing Tatum (Dear John)

Yeah, he may be the sexiest man alive. Just saying. I've loved him in Step Up, I loved him again Dear John. And, I am WAY to excited for The Vow to come out so I can love him in that too!
Marry
Ryan Gosling (The Notebook)

Yeah, he's just amazing. I love his movies and the Hey Girl things just make him even cuter!
Kill
Miley Cyrus

Yeah...she was ok...then she went off the deep end all dancing on a poll on national television and all. The world would just be better without her now...Plus, she about drove me crazy when The Climb was popular.