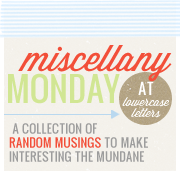 Today I'm joining in for Miscellany Monday. I think I'm going to do this in wonderful bullet form. Enjoy!
I've been so distracted that I can't even focus to write a blog post. I've been trying. I have four blog posts started that are just hanging out in draft mode. But, my brain can't think.
And, I can't think for a good reason. So much is going on in my family. My grandparents aren't in good health and it's been stressful. It's hard seeing the people you love declining in health. And it's hard when only their physical health is declining and their mental facilities are not.
I'm excited that I get to see my sister tomorrow! I'm interested to see how her flights go because she's notorious for having problems with layovers and stuff. It's going to be interest. But it will be awesome to see her!
I miss my hubby like crazy! He's doing his thing and I'm staying busy but I really wish I could snuggle with him. But I know it'll be great when I get to see him!!
I'm glad I remembered that my phone has video chat!!!! Mr. B and I are now video chatting at night and it's AWESOME! I really love getting to see his handsome face at night before I go to bed!
I got to take my camera out today in some woods behind my grandparents house and take some pictures. It was fun to get to see that area in the fall. The colors are really pretty and I can't wait to edit these photos and see how awesome they look!
I'm slowly starting to get the hang of klout. I've been trying to figure it out. And the past few days I've even gotten a higher klout score...we'll see what happens.
Well, there's my (very late in the day) Miscellany Monday! I'll write more soon...I'm starting to feel a little bit more interested in writing!