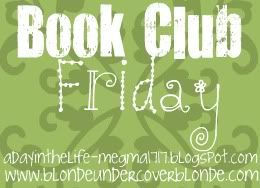 Today's Book -
Organized Simplicity: The Clutter-Free Approach to Intentional Living
by Tsh Oxenreider.
Here's what the back cover of the book has to say about itself:
Simplicity isn't about what you give up. It's about what you gain. When you remove the things that don't matter to you, you are free to focus on only the things that are meaningful to you. Imagine your home, your time, your finances, and you belongings all filling you with positive energy and helping you achieve your dreams. It can happen. And Organized Simplicity can show you how.
I've started reading this book on suggestion from a friend. Mr. B and I have recently begun getting rid of some things in the house because we have too much STUFF. I was telling my friend Amy about it and she suggested I read this book. And I'm loving it.
The book really spends a lot of time teaching you how to keep only the things that are beautiful or useful to your family. I know that after some work, our home will be filled only with these things and we will be so much happier. (I really am kind of tired of the cluttered place our home is. This will really help us out!)
This is great, easy, motivating reading!